> King Lear directed by Deborah Warner, 19 November 2016, The Old Vic Theatre, London
King Lear directed by Deborah Warner, 19 November 2016, The Old Vic Theatre, London
Par Charles Holdefer
Publication en ligne le 09 décembre 2016
Table des matières
Texte intégral
1Few ceremonies are more dispiriting than inductions into the Rock and Roll Hall of Fame. That might sound like an odd, even nonsensical observation to begin a review of King Lear, but it is necessary to keep in mind that baby boomers are easily "foolish fond," too. Every year, aging music stars are recognized for achievements in earlier decades. Loyal fans applaud performers whose originality, charisma and (let's be frank) sex appeal are past their prime. Decrepit honorees shuffle toward the podium to make a speech.
2Last spring, the Old Vic announced that Glenda Jackson, now age 80, would return to the stage after decades of absence to perform the lead in King Lear. As a marketing premise, it was irresistible, the "must see" show of the season. Jackson began her career with the Royal Shakespeare Company in her early twenties ; now, in a gender-bending finale directed by Deborah Warner, she would finish it with what is arguably the canon's most challenging role.
3But one might be forgiven for wondering : is this wise ? Might it be better to remember a star in her glory ? After all, an ill-conceived or embarrassing performance can distract from earlier achievements. Was the Old Vic succumbing to the temptations of the Rock and Roll Hall of Fame ?
4The short answer, happily, is no. The flaws in this production can't be blamed on Jackson ; on the contrary, she remains impressive and in many respects, she carries the show. With a running time of three and one half hours, however, this Lear is unwieldy, full of fine moments and bumpy sequences. It is a memorable evening despite the flatness of some of the supporting roles1.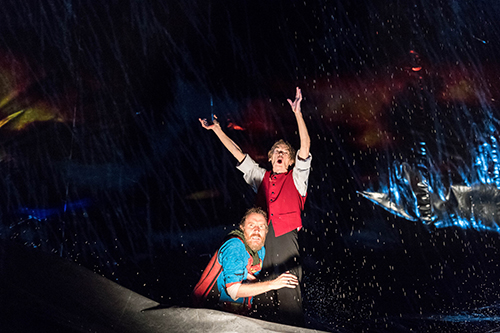 Rhys Ifans (the Fool) and Glenda Jackson (Lear) in King Lear at the Old Vic
Photo credit : Manuel Harlan
5Jackson first made her reputation with Peter Brook and the "Theatre of Cruelty" in the 1960s ; soon, in addition to the theatre, she accepted film roles, winning Oscars for Best Actress in Women in Love (1969) and A Touch of Class (1973). Over the course of several decades, she moved freely between "high brow" theatre and popular entertainment, including BBC spoofs of her serious image with comedians Morecambe and Wise. In 1992, she abandoned acting for a career in politics, serving more than two decades in Parliament as a Labour MP, and created a stir in 2013 with her remarks in the House of Commons upon the death of Margaret Thatcher about what it meant to be a British woman.
6In this latest production, any doubt about whether age might undermine Jackson is dispelled from the outset : her voice resonates wonderfully and, coming from her stooped, slightly shrunken figure, perfectly suits a king grappling with diminished powers. To speak of "stage presence" is often a cliché but it is entirely appropriate here. Jackson has the uncanny ability to summon the audience's gaze even when she isn't speaking—and she sustains it, for five gruelling acts.  
7The question of gender is put to rest just as quickly. Director Warner's 1995 production of Richard II, in which Fiona Shaw played the lead, created a stir and incited a larger conversation about gender politics2. Warner has been at the forefront in questioning traditional casting. Now, more than twenty years later, we are at another phase in the conversation. This Lear makes no conspicuous argument about gender-crossing, beyond presenting a woman in the lead as a fait accompli—which is, of course, an interesting statement, too, a refusal to indulge doubters with apologia. The King's masculinity is a given. When Lear rails in Act IV about woman's "sulphurous pit," Jackson plays it without special distancing from the words or their misogyny. She inhabits a male persona, and that is that.
8I can simultaneously imagine this performance as an important development, part of an ongoing struggle that will open doors in future castings, and also as a reiteration of a commonplace that has been well-known for at least five centuries, since the time when Lear's daughters were played by men, and cross-gender performance was banal. (Things come around.) As Kent observes in the stocks : "Fortune, good night ; smile once more ; turn thy wheel."
9The rest of the cast offers mixed satisfactions. Rhys Ifans is an appealing Fool in a ragged Superman suit, alternating between sight gags and a crouched, snarling intensity reminiscent of a young John Lydon. Simon Manyonda as Edmund manages, in the early going, to summon sympathy for the bastard, jumping rope and doing push-ups in boxer-like preparation for his upcoming conflicts ; later he slyly hides behind nerdy glasses and a diffident demeanor when speaking to his superiors. Gary Sefton's Oswald is also rather good at conveying his oily opportunism.
Simon Manyonda (Edmund) in King Lear at the Old Vic
Photo credit : Manuel Harlan
10The sisters, however, are unremarkable. Goneril (Celia Imrie) and Regan (Jane Horrocks) do not hit wrong notes but they remain somewhat effaced in this production. Cordelia (Morfydd Clark) struggles to find a way around the "goody-goody" aspect of the role, which admittedly makes it one of the more difficult parts. Gloucester (Karl Johnson) is frankly disappointing, unable to move from the Polonius-like foolishness of the early acts to the dark pathos after the torture scene.
11Part of this last problem is due not to the actor but to the staging. Director Warner plays up the gore, and during the torture, Cornwall actually throws one of Gloucester's eyes to the audience. The reaction, on the night of this performance, was not of horror but of laughter, a distancing from the events taking place on stage. Farce also wins out in Dover cliff scene with Edgar (Harry Melling). Granted, there is a circus dimension to this scene, but the situation is also abject.
12In downplaying this darker side, an important part of the play gets lost. Perhaps I'm being too harsh, but it felt to me like an easy way out, a kind of intellectualized Tarantino-style violence. Imposed on the terrible world of Lear, it becomes clear that Tarantino and Disney are two sides of the same cloying coin : a reassuring cartoon. In a braver rendering of King Lear, the human plight is more disturbing.
13The performance is in modern costume and characters of rank dress like executives ; their assistants are white-collar office workers ; Lear's knights are lager louts. The set design is minimalist, with office chairs and an atmosphere redolent of IKEA. Above the stage, a digital readout informs the audience of what Act and Scene is being played. This is a bit distracting, like watching the minute clock during a football match.
14Occasional nudity seemed more forced than integrated into the dramatic action, and the storm scene was sometimes drowned out by the sound effects, making it impossible to hear the actors. The onstage use of airport and supermarket trolleys, however, was a nice touch, likewise the characters' costumes of desert camouflage in the final scenes, evoking recent military adventures. Topical references provide an interesting undercurrent to this production.
15For instance, the Fool delivers some of his lines in a comic imitation of a preaching Bob Dylan, complete with harmonica ; later, he dons the mask of the hackers of Anonymous. In this post-Brexit theatre, when Jackson as Lear spoke scornfully of "scurvy politicians," the audience reacted with spontaneous, audible assent.
Sargon Yelda (Kent) in King Lear at the Old Vic
Photo credit : Manuel Harlan
16Sargon Yelda as Kent offers one of the more intriguing performances in this Lear. At the beginning he is solid as a badass, blustery soldier, and then, after his banishment, he adopts a curious Slavic accent, perhaps in reference to immigrant anxiety in post-Brexit Britain. Less convincing, though, was the perplexing directorial choice to suggest, near the end of the play, sexual sparks between his character and Cordelia. (Where did that come from ?)
17This production is never boring, though, even in its missteps. And it is, in the end, King Lear, not simply a star turn by its lead who, though undeniably impressive, inevitably invites criticism, too. (Does she really need to roll so many Rs ? Does Jackson girn too much ? It's all interesting pub conversation after the show…) But—never mind perfection, or baby boomer rock and roll nostalgia—this was not a show to miss.
Notes
1  THE CAST (in order of appearance) :
Kent : Sargon Yelda
Gloucester : Karl Johnson
Edmund : Simon Manyonda
Goneril : Celia Imrie
Albany : William Chubb
Regan : Jane Horrocks
Cornwall : Danny Webb
Gentleman : Stephen Kennedy
King Lear : Glenda Jackson
Cordelia : Morfydd Clark
Ensemble : Fiston Barek
Ensemble : Joanne Howarth
Edgar : Harry Melling
Ensemble : Bessie Carter
Oswald : Gary Sefton
Ensemble : George Eggay
Ensemble : Mark Rose
Ensemble : Jonathan Coote
Fool : Rhys Ifans
Ensemble : Fehinti Balogun
Old Man : David Hargreaves
Ensemble : Matt Gavan
Ensemble : James Staddon
THE CREW :
Director : Deborah Warner
Design : Jean Kalman & Deborah Warner
Lighting Designer : Jean Kalman
Composer & Sound Designer : Mel Mercier
Associate Set Designer : Justin Nardella
Costume Designer : Zeb Lalljee
Video Designer : 59 Productions
Casting Director : Jessica Ronane
2  See, for instance, Carol Chillington Rutter, "Fiona Shaw's Richard II : The Girl as Player-King as Comic," Shakespeare Quarterly, vol. 48, no. 3, 1997, p. 314–324. www.jstor.org/stable/2871019.
Pour citer ce document
Par Charles
Holdefer
, «
King Lear
directed by Deborah Warner, 19 November 2016, The Old Vic Theatre, London»,
Shakespeare en devenir
[En ligne], Adaptations scéniques de pièces de Shakespeare et de ses contemporains, L'Oeil du Spectateur, N°9 - Saison 2016-2017, mis à jour le : 11/12/2016, URL : https://shakespeare.edel.univ-poitiers.fr:443/shakespeare/index.php?id=1067.
Charles Holdefer is a Maître de Conférences at the University of Poitiers. His article "Bad Shakespeare : Adapting a Tradition" appears in Screening Text, Shannon Wells-Lassagne and Ariane Hudelet, eds. (McFarland, 2013). His fiction and criticism have also appeared in the New England Review, North American Review, Antioch Review, World Literature Today, New York Journal of Books and other publications.